It's time for a new standard in smart watches. With its extra-wide curved display,the Metalsme smart watch fits more of the important stuff on your wrist, without all the scrolling to find it. It applies the continuous heart rate monitoring system to help reach your fitness goals and monitor your health effectively, wherever your day takes you. And with a lithium battery that can run for 7 days on a single charge, the Metalsme smart watch has the power to get you through your whole week worry-free. Even when you're living around-the-clock.
Move more. Stressless. Monitor your health. And go all week on a single charge. The Metalsme smart watch has all the right curves to keep you comfortable, and all the right data to keep you motivated. All on a large color-rich display.
Intricate in its design, the Metalsme smart watch exemplifies the clarity with a 326 PPI HD resolution and enhances its expression through a 400 NIT high-brightness display. Enjoy sharp and bright display even under direct light with Metalsme smart watch.
The Metalsme smart watch is all curves, so it fits your wrist whether you're shaking hands in the boardroom or crushing goals in the gym. It's designed with a 92° curvature that helps the Metalsme smart watch rest comfortably on your wrist. Falling asleep wearing the Metalsme smart watch is no problem — with all these curves, it's designed with "Do Not Disturb" in mind.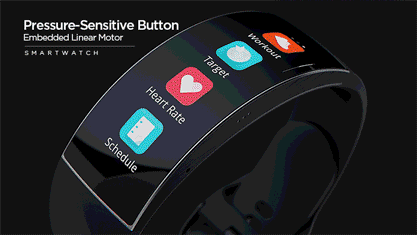 The Metalsme smart watch was made with a level of precision you'd expect from a finely crafted watch. First, our engineers heat the glass cover to over 700°C. Then they use a 6-step bending process until the Metalsme smart watch reaches a 92° super arc that wraps comfortably around your wrist. Even the 7-day lithium battery is curved for your comfort.

Your time is valuable, so why waste it scrolling through endless menus? The Metalsme smart watch shows you more of what you need in a single glance, as it surpasses a 6% display area of the smartwatch industry leader. 
With a color-rich 2.07" curved display, the Metalsme smart watch fits more on your wrist than most smart watches. That means more room for apps to track your health and organize your day. And less time spent scrolling to find what you need.


Additionally, a titanium alloy uni-body makes the watch extremely lightweight and the design super sleek.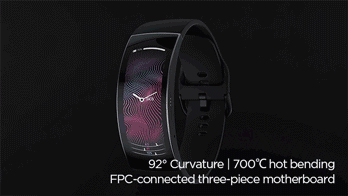 Your phone is button-free, so why not your watch? More of our devices are ditching bulky buttons for a more integrated approach. The Metalsme smart watch features a minimalistic design that does away with buttons and crowns that can dig on your wrist. Instead, this watch stays sleek with a pressure-sensitive sensor that helps you access everything with a press of your finger.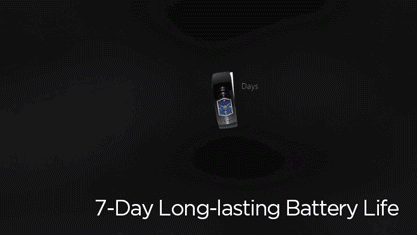 So much more battery life. And so much less to worry about.
With the Metalsme smart watch, our engineers wanted to deliver a full 7-day battery life without sacrificing features like professional level heart rate monitoring, round the clock text and call notifications, and tracking for your weekly workouts.
The challenge? It takes a lot to power a watch this smart and packed with features.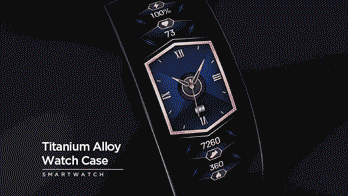 So our engineers actually came up with the idea of curving the high-powered lithium battery. It allows them to fit more battery power into the Metalsme smart watch, all while maintaining its futuristic curved design. No fuzz, at your convenience. Charging has never been easier with an utterly effortless experience.

Heading out of town? Leave your charger and your worries at home. The Metalsme smart watch gives you plenty more run-time than other smart watches. So it will keep going while you're out conquering the business world. Or off conquering the beach.
All-day. Everyday. 7 days a week.
We gave you the best smartwatch battery performance we could. Because… well, why wouldn't we?
The Metalsme smart watch always has your heart in mind. It monitors your heart rate 24 hours a day, continuously and uninterruptedly, for a more comprehensive fitness data on a glance.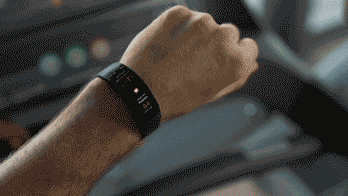 The result: The Metalsme smart watch is setting a new standard for heart rate monitoring in smartwatches. 
The <span "="">Metalsme smart watch keeps an eye on your cardiovascular health and your fitness with a bigger sensor. Effectively. Remotely. Even when you're pushing for that extra mile.

Find your way around all life's corners. With the The Metalsme smart watch , you've got two of the world's top Geo-tracking systems on your side: GPS and GLONASS.
That means if one system has trouble finding you, the other one will jump in to help. So you can have peace of mind even when you travel abroad, knowing you've got both satellite systems lighting your way.

Sticking closer to home? Track your running course, speed, and distance in real-time with spot-on accuracy. And no more chasing your location as it drunkenly floats across the screen when the signal gets weak.
The <span "="">Metalsme smart watch will give you pinpoint accuracy even on your most unfamiliar routes. So you can run further than ever. With Confidence.
Get the most out of every workout. Whether you're open water swimming or cycling in the gym, the The <span "="">Metalsme smart watch will track your progress and help you reach your fitness goals. With 9 versatile sports modes, it offers customizable tracking and coaching for every activity. It's the coach on your wrist giving you the stats and the motivation you need to level up.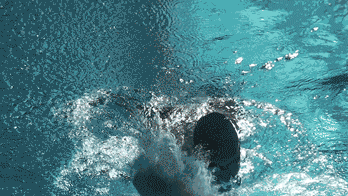 Take your Metalsme smart watch in the pool without worry. Or play at the beach till sunset without losing track of the time. With water resistance up to 50 meters, this watch will help push you through your laps and improve your personal best time.
*Remember to remove the Metalsme smart watch before you hit the shower or a trip to the sauna, since all that steam can affect the seal and make it less water-resistant next time.


A 100-point scoring system to make healthier living simple and fun. The better you move, the higher your score. Count your steps each day. Measure your calories. Get reminders when you're sitting too much. And let the Metalsme smart watch nudge you towards a higher score for your health.
The Metalsme smart watch uses big data to know the leading predictors of longevity and good health. Its *Personal Activity Intelligence (PAI) gives you easy to understand assessments, helping you set and then crush your fitness goals. Over time the Metalsme smart watch can help you raise your score, helping you create a healthier, more active life.
And the large 2.07-inch AMOLED screen lets you get a quick read on your heart rate and activity levels all in one glance, without scrolling. Because your health deserves to be front and center.


Your blood cells need the right balance of oxygen to keep you healthy. And to keep your mind sharp and alert. The Metalsme smart watch uses an infrared light test to measure your *blood oxygen levels without pricking fingers.

Your day started last night. The Metalsme smart watch can help you get the most out of your day with a great night's sleep. With its curved design, you'll barely notice the Metalsme smart watch on your wrist as it follows you through the 4 stages of sleep: Light Sleep (Stages 1 and 2), Deep Sleep, and REM. It tracks you 24/7 to give you accurate, insightful data to help you understand and improve your sleeping patterns. The Metalsme smart watch can even monitor your napping so that you can find the best time and length for that midday recharge.
Sleep better, improve performance, and be ready for your next big moment with Metalsme smart watch.

The Metalsme smart watch helps you stay stress-free. It monitors your heart rate throughout the day and will give you updates on where your stress levels are: Relaxed, Normal, Medium, and High. When stress levels are on the rise, the Metalsme smart watch will be your hands-on indicator.



 
The watch takes on the responsibilities of a butler, proficiently handling your personal agendas, such as notifying incoming calls or messages and reminding you of sitting too long, not to mention calling for events and schedules.


With Metalsme smart watch, your wrist becomes another canvas to express yourself. With customized watch faces, you can find themes to suit your personality, the season, or one that gets you in the holiday spirit. Choose a watch face that tracks your steps and measures your heart rate with a personal flair, or find one that goes big on fashion (a choice of 40+ widgets). The Metalsme smart watch makes it simple to put more of yourself into your watch.